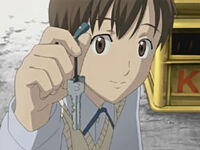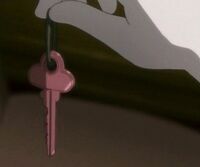 Omoro is the family restaurant run by the Miyagusukus. It had one ordinary key at first. George and Riku used to take care of it.
When Kai meets Saya a year after Riku's death, he decides that the two of them should return to Omoro after all the fight is over. So, he makes two keys, one pink in color as per Saya's preference, with the imprint of the previous one. He keeps one for himself and gives the pink one to Saya.
Before leaving to fight Diva at the Metropolitan Opera, Saya slips her key in Kai's pocket. It's when Kai finds the key in his pocket, that he realizes Saya has planned death for herself at the end and he rushes to stop her.
Ad blocker interference detected!
Wikia is a free-to-use site that makes money from advertising. We have a modified experience for viewers using ad blockers

Wikia is not accessible if you've made further modifications. Remove the custom ad blocker rule(s) and the page will load as expected.