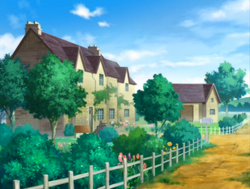 Glay's Farmhouse is a quiet residence on a countryside of England. The farmhouse is owned by Glay, David's acquaintance. The household consists of Monique, two abandoned war-children Nahabi and Javier. David, Kai and Lewis. They take refuge there after the Red Shield HQ is destroyed. It has an attached small poultry farm as well as an old storehouse. Kai practices in the storehouse to improve his shooting skills.
Ad blocker interference detected!
Wikia is a free-to-use site that makes money from advertising. We have a modified experience for viewers using ad blockers

Wikia is not accessible if you've made further modifications. Remove the custom ad blocker rule(s) and the page will load as expected.