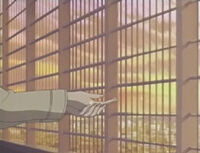 The Eiffel Tower is an iron lattice tower located on the Champ de Mars in Paris, named after the engineer Gustave Eiffel, whose company designed and built the tower.
In the Anime
The Eiffel tower is Hagi's most favorite haunt. He recommends the place to Saya when she needs to do some soul-searching alone after Irene's death.
She gets on the observation deck of the Eiffel tower and thinks about her identity, how her blood affects others, mourns Irene's death due to consuming her blood and the distant that has been extending between herself and Kai. She brings with her a small portion of blood crystal that had fallen from Irene's dead body and lets the piece disintegrate and glide away with the wind. All the while, there stands another visitor who just catches a glimpse of what floated away ~ Kai. He thinks he sees Irene standing nearby, but it's actually Saya. Kai can't bear to look at her and doesn't see her take something out of her pocket. He finally turns around when he notices that there's something floating by in the air in front of him. Saya is letting the wind carry away the powder from Irene's crystallized blood.
Ad blocker interference detected!
Wikia is a free-to-use site that makes money from advertising. We have a modified experience for viewers using ad blockers

Wikia is not accessible if you've made further modifications. Remove the custom ad blocker rule(s) and the page will load as expected.