The Brooklyn Bridge is a bridge in New York City and is one of the oldest suspension bridges in the United States. Completed in 1883, it connects the boroughs of Manhattan and Brooklyn by spanning the East River. It was the longest suspension bridge in the world from its opening until 1903, and the first steel-wire suspension bridge.
In the Anime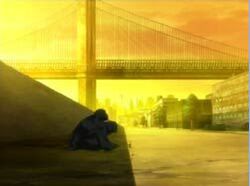 On Episode 45 when Moses and Karman decide to suicide, they leave their weapons to Kai and go to the shore of Brooklyn Bridge accessible from downtown Manhattan. They have a conversation with the bridge in view during sunset. After that, they embrace the sun and burn in green flames.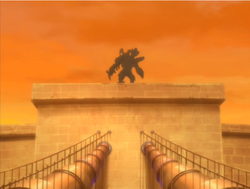 In Episode 47, James is shown standing on the Brooklyn Bridge preparing for his final battle with Saya. There he transforms himself into his Chiropteran form and goes to the place where Saya is to attack her.
Ad blocker interference detected!
Wikia is a free-to-use site that makes money from advertising. We have a modified experience for viewers using ad blockers

Wikia is not accessible if you've made further modifications. Remove the custom ad blocker rule(s) and the page will load as expected.